Primer helps executives and entrepreneurs intelligently leapfrog into social media communications.
(Released on PRWeb, November 5) Bartelby Press announced today Now Is Gone: A Primer on New Media for Executives and Entrepreneurs by Geoff Livingston with Brian Solis will be available for sale on November 12.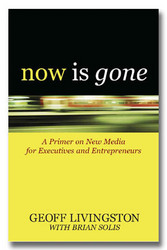 In one sitting, the book helps business executives and communications professionals understand social media and how to integrate it into the marketing mix:
Introduces Social Media, the benefits, and the importance of engaging with influencers and customers directly
Explains the new culture of two-way conversational marketing
Inspires and shapes social media strategies to successfully engage communities
Highlights some of the more common social media promotion tools
Reveals cultural hurdles a company must face before starting social media outreach
Provides ways to manage the rapid evolution of social networks and technologies
Some of the most revealing highlights of the book are principles that companies should adapt in their outreach if they want to be successful. The seven principles of successful community engagement are:
Do not try to control the message: People will talk about your company with or without you. Since social media is inherently two-way, a controlling entity that enters the community will be met with anger, distrust and either rebellion or deaf ears.
Honesty, ethics and transparencies are musts: Openness isn't about baring trade secrets or intellectual property. Rather it focuses a company on basic human relations and creates a strong foundation for long-term, two-way mutually beneficial relationships.
Participation within the community is marketing: Companies need to do more than blog, they need to comment and contribute to larger community groups and social networks.
Communication to audiences is an out-dated 20th Century concept: Audiences receive one-way communications — movies, radio broadcasts, speeches, — Thanks to social media the audience is no longer the audience. People are now empowered to use social channels to voice their thoughts and opinions through publish channels creating the opportunity for dynamic communities driven by conversations.
Build value for the community: It is only by listening, reading and understanding a community that a company can understand the unique cultures within each in order to participate and share valuable and relevant information.
Inspire your community with real, exciting information, not corporate propaganda: Don't waste people's time with unnecessary product information or press releases, and instead remember to build intrinsic value.
Intelligently manage your media forms (RSS, frequency, etc.) to build a stronger, loyal community: Intelligently creating content to build a community means making it easy and engaging for community members to come back.
Images
Book Cover and Author Photos on Flickr
Quotes:
Attributed to Geoff Livingston
Our goal was to present executives and entrepreneurs a thorough primer that can be completed in one sitting. While social media represents a sea change, it does not need to be hard or difficult. The biggest change involves moving from traditional one-way mass communications to a two-way conversational approach.
Businesses must understand that social media is not going away, they have to embrace it sooner or later. They just need some tools like Now Is Gone to quickly acquire the knowledge necessary to succeed.
Attributed to Brian Solis
Social Media is about empowering people to have conversations where they take place. It starts with acknowledging that customers are people and companies are represented by people. The difference today is that it's not about marketing "at" audiences any longer it's about conversations between people. Social Media has empowered almost anyone to earn an influential voice, which in turn sparks conversations that have direct influence with peers. The choice is now with the companies who need to understand the significance Social Media plays in the markets of conversations and how they will participate in order to help and guide their customers.
Reviews
Back Cover
Blog Herald
About the Authors:
Geoff Livingston
Geoff is CEO of Livingston Communications. He has worked as a marketing strategist in the Washington, DC region for 14 years. Dubbed a "local blogging guru" by the Washington Post, Geoff's Buzz Bin blog is nationally recognized, and is the top ranked independent PR blog in the Washington, DC region. He successfully launched FortiusOne's GeoCommons using an aggressive social media strategy, and marketed Godsmack lead singer Sully Erna's bio using a diversified My Space and blogosphere campaign.
Brian Solis
Brian is Principal of FutureWorks, an award-winning PR agency in Silicon Valley. Solis blogs at PR2.0, bub.blicio.us, and regularly contributes PR and tech commentary to industry publications. Solis is co-founder of the Social Media Club, is an original member of the Media 2.0 Workgroup, and also is a contributor to the Social Media Collective. Brian has been actively writing about new PR and the idea of PR 2.0 since the mid 90s to discuss how the Web was redefining the communications industry.
About Bartleby Press
Since 1981, Bartleby Press has been devoted to crafting books of quality that are fun to read and a pleasure to own. More information about Bartleby the Publisher is available at www.bartlebythepublisher.com.